PTSA Diversity, Equity and Inclusion
Diversity, Equity and Inclusion (DEI) Committee
As mentioned on the PTSA general page, the Lincoln PTSA Diversity, Equity and Inclusion (DEI) Committee supports Lincoln families whose children may not be receiving equal education opportunities due to factors such as race, religion, special education, health conditions, gender identity, sexual orientation, poverty, homelessness, and other normal aspects of being human.
The DEI seeks to:
help families network with other families facing similar issues
identify and share with the Lincoln community what improvements need to be made at our school
contribute toward solutions
We encourage you to attend our Zoom meetings – every Tuesday at 7pm – whether you will just be sitting in or you wish to become more actively involved.
More information about us and our activities is below. Contact us at Lincoln.PTSA.DEI@gmail.com for more information.
---
Documentary Screening in May 2022
We are very excited to invite you to our next event, a screening and panel discussion of the acclaimed, critically important, and locally produced documentary, Roosevelt High School: Beyond Black and White.
This is an IN-PERSON EVENT for our community (hybrid option available)!
May 11, 2022 | 6:30 – 8:30 pm | Lincoln High School Library
Here is the trailer and see the flyer below.
Created by RARE (Roosevelt Alumni for Racial Equity), this 30-minute film focuses on the historic and contemporary struggles of Roosevelt High School to address race and racism, a struggle that fully applies to LHS.
After the screening, we will have a panel discussion, featuring Seattle Council PTA DEI Committee Member Cherry Holmes and RARE Board Member Lea Vaughn, who contributed to the making of the documentary, graduated from Roosevelt High School in 1971, and went on to eventually become the University of Washington's first Black woman law professor in 1984.
Following the panel discussion, we will break into interest groups, such as Athletics and Performing Arts, for small group discussions of how to apply the lessons of the film to address specific issues that are alive in different groups. Please join us for this important event!  For those who cannot make the in-person event, we will have a hybrid zoom option. 
Email us at lincolnptsadei@gmail.com for more information.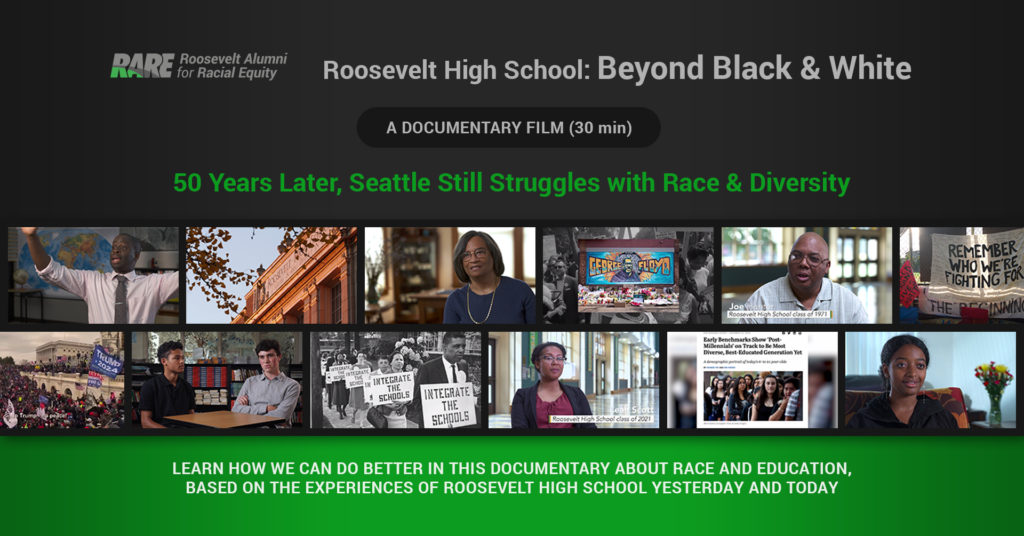 The Lincoln High School Community Book and Media Discussion Group is for parents, staff, and students. We aim to create an informal space to discuss racial equity and inclusion through the lens of books, movies, and music.
Contact Hilary Loeb, hilarymloeb@gmail.com, to learn more, suggest titles, or get a Zoom link.