Fundraising
All in for Lincoln!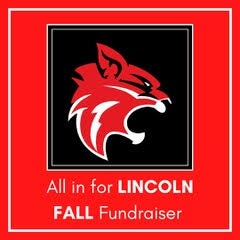 The Lincoln PTSA began supporting the Lynx community well before the LHS doors opened in September 2018. You can support students, teachers, and staff at Lincoln by donating to All in for Lincoln! via the PTSA pages. Donate to our annual campaign.
Take a look at some of our amazing educators, students, alumni and leaders who are All In for Lincoln.
Amazon Prime
The Lincoln PTSA is an official non-profit organization available to choose in the Amazon Smile program. Our listing is Lincoln High School PTSA 6 15 485, or you can find it here: Lincoln Amazon Smile.
OfficeMax/Office Depot
OfficeMax and Office Depot will provide a 5% credit for LHS whenever our school is chosen in their Give Back program. The school is listed as Lincoln High School – ID: 70241409. More information may be found at: OfficeMax/Office Depot Give Back.
Athletics
There are over 20 different athletic activities offered at Lincoln–from Football and Soccer, to Women's Lacrosse and Tennis.
You can support your student's athletics team by donating via Cheddar Up.
Performing Arts at Lincoln (PAL)
Our Performing Arts is a robust program that includes drama, band, orchestra, and choir, with the goal to ensure every student has the opportunity to fully engage in opportunities to explore music and dramatic arts at Lincoln.